Aug. 24, 2018
Nichia receives multiple recognitions from the IES for its latest LED innovations. The IES 2018 Progress Report Selection has been given to both Nichia's Optisolis™ LEDs and its discrete color Direct Mountable Chips (CSP Style)
Tokushima, Japan – August 24, 2018 - Nichia Corporation is proud to announce that two of its latest LED families have been recognized by the Illuminating Engineering Society (IES) for their unique and significant advancement to the art and science of lighting, per the IES 2018 Progress Report. The IES has noted the innovation and development of Nichia's Optisolis™ series of LEDs and its discrete colors of the Direct Mountable Chip series of LEDs.
The IES annually looks for new and significant advancements in lighting products, research, publications and design tools from the previous year. The Progress Committees mission is to keep in touch with developments in the art and science of lighting throughout the world and prepare a yearly report of these achievements. Evaluations are conducted by an impartial judging process where the committee evaluates each submission on its uniqueness, innovation and significance to the lighting industry. Nichia's Optisolis™ and discrete color "Direct Mountable Chip" family of LEDs were recognized at the 2018 IES Annual Conference in Boston, MA on August 10th.
Nichia's Optisolis™ represents a true revolution in lighting performance and color quality. With the help of Nichia's 50+ years of phosphor leadership and 25+ years of LED leadership, the Optisolis™ achieves the industry's highest CRI with a spectrum that is so natural, only the sun can claim to be more optimal. As the market puts a stronger focus on human centric lighting, Nichia's Optisolis™ raises the bar by delivering an LED series with a quality of light long desired in applications such as hospitals, educational facilities, offices and museums. Additionally, Nichia's Optisolis™ series does not contain any damaging UV radiation or energy which can destroy illuminated materials, unlike competitor's packages that claim similar human centric benefits.
Nichia has also just launched a new series of discrete, phosphor converted color options in its Direct Mountable Chip series, a similar technology to what is known as a Chip Scale Package (CSP). The Direct Mountable Chip color series, currently consists of Royal Blue, Green, Amber and Red, along with its previously released white options. Nichia has again used its vast phosphor and semiconductor experience to bring an InGaN based color family of LEDs, which simplifies the electrical and optical designs by maintaining the same forward voltage and height across all colors. Additionally, the phosphor converted Red demonstrates a significant improvement in the thermal droop and color shift vs. traditional Red LED technology, allowing for better in-situ performance and overall color and stability.
With its motto of "Ever Researching for a Brighter World," Nichia takes great pride in its leadership position and industry recognition, including that of the IES. Nichia promises to continue its significant investment into the innovation and advancements of Solid State Lighting for many more years to come.
To learn more about these breakthrough technologies, contact a Nichia sales representative.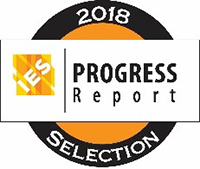 Contact information;
Public Relations, Nichia Corporation
Tel:+81-884-22-2311
Fax:+81-884-23-7717