Jul. 23, 2019
More museums install pioneering Nichia UV-free LED technology to accurately mimic natural light
Natural colour rendering of Optisolis™ LEDs lets visitors experience artwork as the artist intended without degrading the work
Tokushima, Japan – 23 July 2019: Nichia Corporation, the leader in high brightness LED technologies, announces continued success with Optisolis™ – the world's first series of packaged LEDs and Chip-on-Board (COB) solutions that accurately mimics natural sunlight without producing any harmful ultraviolet (UV) light.
The Optisolis™ family of LED products continues to successfully transform the visitor experience offered by museums and art galleries across Europe where they are being integrated into lighting fixtures to reproduce the vivid tones and finer details of displayed objects. Optisolis™ lighting has been installed for evaluation throughout 2019 at the Kunstmuseum Pablo Picasso Münster, the Ludwig Museum in Koblenz and the Zeppelin Museum in Friedrichshafen in Germany. These installation projects have been developed in collaboration with Lumitronix and EDEN Design.
Designed to replace halogen and conventional LED directional lighting applications, the natural colour rendering performance delivered by the Optisolis™ LED products allows visitors to fully appreciate the high fidelity of light surrounding them. Optisolis™ enables this unparalleled experience by mimicking the entire spectrum of natural sunlight visible to the naked eye and illumination from incandescent bulbs. The exceptional colour rendering index (CRI) value of over 98 at full intensity also delivers R9 red content (a key saturated solid colour not measured by CRI) of over 94.
The ground-breaking level of white LED colour quality and consistency, which is unique to Optisolis™, and is made possible by using Nichia's proprietary technologies and expertise in developing blue emitters and high-quality phosphors. With Optisolis™, light is delivered without radiating any of the UV that degrades precious artworks and artefacts; competing LED products typically emit ultraviolet wavelengths at around 405nm. Additionally, Optisolis™ delivers a high lumen-per-Watt value, resulting in significant energy savings.
Optisolis™ LED packages are available in two part numbers: the NF2L757G-F1 (3000K version) and NF2W757G-F1 (5000K version). Both surface mount variants are housed in a 3 x 3 x 0.65mm package. The 5000K daylight variant has a typical luminous flux of up to 23lm at 65mA. Additionally, there are 11 COB part numbers available that offer similarly high colour fidelity in 2700K and 6500K options, with colour temperature remaining stable over time, ambient temperature and drive current. These models deliver a luminous flux ranging from 360lm to 3140lm.
Museum visitors have provided very positive feedback about the visual improvements in the parts of the museum where Optisolis™ is being used. Art objects are now presented in lighting which allows colours and detail within the artworks to become more vivid and impactful.
Dr Ulf Meiners, Managing Director at Nichia Germany, said: "Optisolis™ delivers a new standard in the implementation of high-quality museum and art gallery true daylight lighting. The new UV-free LEDs provide a true daylight simulator with practically perfect colour rendering to allow objects on show in museums to be seen as the artist intended. Other light sources designed to imitate natural sunlight do not remove UV, while standard daylight white LED emitters simply do not come close to matching its performance."
Although Optisolis™ is designed primarily for museum and art gallery lighting applications, other locations for the lighting are suitable – particularly where the highest CRI and natural comfortable daylight is preferred. For example, Optisolis™ is also ideal for premises where precise colour evaluation is necessary, such as printing and painting businesses, as well as in jewellery shops and other retail stores.
Nichia will proudly be demonstrating the Optisolis™ Technology at The International Council of Museums (ICOM), this year in Kyoto, Japan in September. Please be sure to stop by Nichia's booth for a demonstration.
Images
The photographs below show Johann Heinrich Schönfeld's 'Gideon and his Warriors at the Jordan River' oil painting exhibited in the Zeppelin Museum without using Optisolis (left) and when using the technology (right)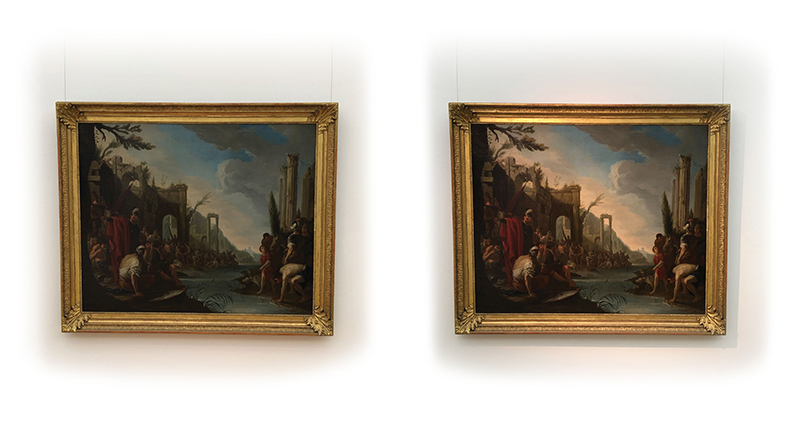 The photographs below show the portrait painting of Angelika Kauffmann by Johann Heinrich Tischbein exhibited in the Zeppelin Museum without using Optisolis (left) and when using the technology (right)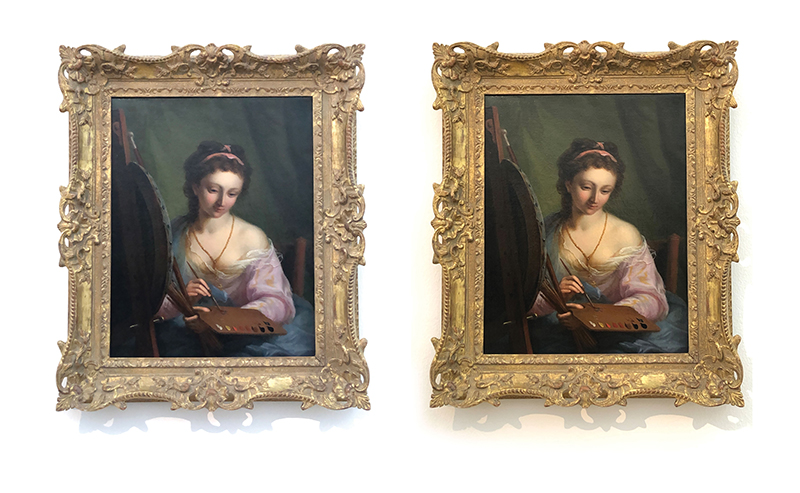 Contact information;
Public Relations, Nichia Corporation
Tel:+81-884-22-2311
Fax:+81-884-23-7717