May. 31, 2022
Webinar: "90 is the new 80": Achieve High Color Rendering While Maintaining High Efficacy
Nichia will conduct a webinar on H6 Series with the cooperation of Future Electronics, one of our valued partners.
For years the SSL industry has been justifiably chasing energy savings, higher and higher efficacy. This has been a primary benefit of LED technology. However, as we enter Phase 2 of LED adoption, the focus shifts to higher quality of light. For years quality of light has taken a back seat to efficacy as the trade-offs were too high. "I would love higher CRI or higher TM-30 values, but not with a 15% hit in efficacy." "80 CRI is good enough. I need lpW." These words do not need to be spoken again.
Nichia's H6 LED Series featuring KSF/PFS Phosphor and TriGain® Technology from GE Current, a Daintree Company, raises the bar in lighting quality and overall effectiveness, without sacrificing efficiency or reliability.
Lighting designers can now choose both high quality of light and efficiency in demanding professional environments such as shops, restaurants, hotels, and museums, in which they make the colors of people, merchandise, artworks, and furniture more vivid and natural. Additionally, the bar can be raised in general lighting applications such as offices and schools, in which lighting with better color quality of 90+ CRI or high TM-30 values becomes the new standard.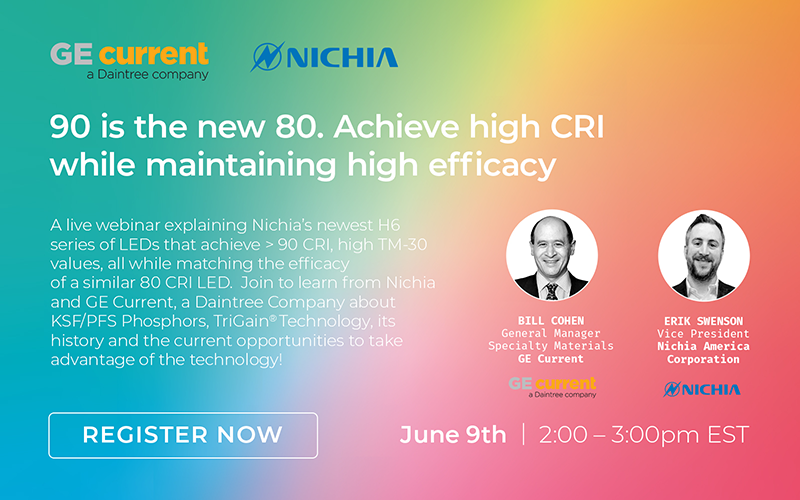 Webinar title: "90 is the new 80": Achieve High Color Rendering While Maintaining High Efficacy
Date: Thursday, June 9, 2022 at 2:00 pm (EST)
Duration: 60 minutes
Speakers:
・Bill Cohen (GE Current General Manager)
・Erik Swenson (Nichia America Vice President)
Key Takeaways:
• What is the difference between Standard Phosphors and KSF, PFS Phosphors
• What is TriGain® and how is it controlled?
• What is GE Current's, GE Lighting's and Nichia's position in all of it?
• Nichia's technology position overview.

To join the webinar, visit here for registration.
We are looking forward to meeting you on the webinar.
Note:
TriGain® is a registered trademark of Current Lighting Solutions, LLC.