Environmental Preservation / Social Responsibility
"Respect the Environment"
A core belief since Nichia's foundation
Since Nichia's beginnings in Tokushima, Nichia has grown up in the rich natural environment of the Shikoku island. That is why Nichia continues to protect the precious global environment as a community-based manufacturing company and as global citizens who are expanding its activities around the world.
Respecting the Environment
Environmental Preservation
Based on one of the policies since its foundation, respecting the environment, Nichia has been working on the following environmental activities. In 2013, Nichia established the Nichia Furusato Foundation which provides subsidies to organizations protecting the environment in Tokushima. Nichia also has contributed to the protection and preservation of the Kawabata-moroko (golden venus chub), an endangered freshwater fish. In 2015, Nichia received the "Good Life Award" which is a special award sponsored by the Ministry of the Environment. Additionally, at Nichia's HQ, Nichia owns a breeding facility for fireflies and a small aquarium to preserve and breed rare organisms such as the Oya-nirami (Japanese perch), one of the endangered species in Japan.
Nichia Furusato Foundation
Nichia invested 300 million yen to establish the Nichia Furusato Foundation in 2013. Since 2015, this foundation has been supporting organizations in Tokushima that engage in activities to conserve biodiversity and prevent global warming. This foundation has subsidized 19 million yen for 44 organizations in 2021, and a total of 108 million yen since its foundation.

Environmental Preservation Activities
Contribution to the Tokushima‑Kizuna-no-mori Reforestation Project
Sponsorship of‑Uyun-no-mori desert greening activities
Support for areas without electric lighting in Nepal
Contribution to Anan-city for the improvement of river water quality
Promotion of environmental preservation around plants
Contribution to the protection and preservation of an endangered species, the Kawabata-moroko (golden venus chub).


(In 2015 received the "Good Life Award" which is a special award sponsored by the Ministry of the Environment.)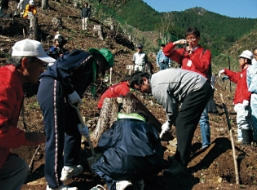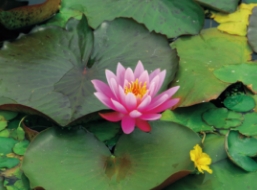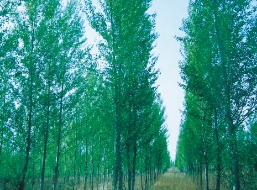 Creating a Prosperous World
Social Responsibility
Tokushima is not only the birthplace of Nichia, but also the place where all Nichia's Japanese manufacturing sites are located. To be a good corporate citizen of Tokushima, Nichia has been focused on supporting educational and research institutes, scholarships for students who show potential for future innovations, various regional promotion measures, and the people in the community who wish for a safe and comfortable life in Tokushima. Though these activities are limited to Tokushima for now, Nichia hopes to expand these activities to areas around its sales offices abroad in the future.
Grants for Educational Facilities and Scholarships
Support for Tokushima University

Donations to fund research grants
Donation to the construction of the "Nichia-Kaikan" the regional and international community building
Establishment of Nichia Scholarships for the department of science and technology
Endowed Course
Establishment of an endowed course about nanomaterial technology
Donation to construction of the new building for outpatient care and the west ward in the University Hospital

Donation of a large display system to Kyoto University
Establishment of an endowed course in the University of Tokyo about photon information technology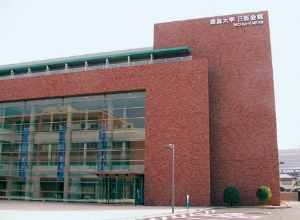 Contributions to Local Communities
Donation of LED displays to public facilities and institutions
Donation to the Tokushima Prefecture to improve traffic conditions
Donation to the Anan City Parks project "Ushiki‑Castle Ruins Park Development"
Donation to enhance Anan City's child-rearing support policy
Donation to the construction of the west branch of Anan Firefighters Association
Participation in the Awa-Odori dance festival as a Nichia Ren (team)
Participation in local cleanup activities (volunteers)
Donation to Anan Medical Education Center
Donation to Tokushima Prefecture and Anan City for infection control and prevention measures of the new coronaviruses (SARS-CoV-2)