365nm, 100mW. We named it "i-LED"
Nichia has developed 365nm LED. Peak Wavelength, just on i-line, 365nm. 100mW, most powerful in the market. Again, from Nichia.

(Features)
* No IR emission. Ideal for heat sensitive materials.
* Instant on and Instant off
* Ability to operate in low temperature
* Impact Resistant
* Environmentally Friendly (Mercury Free, Pb free solderable)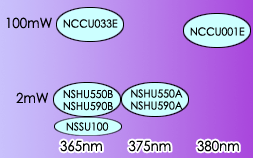 Nichia UV-LED Products
Model
∧(p)
Power
Window
Available
Memo
NSHU550A
375nm
2.0mW
Flat
Now
NSHU590A
375nm
1.4mW
Lens
Now
NSHU550B
365nm
*2.0mW
Flat
Now
NSHU590B
365nm
*1.4mW
Lens
Now
NCCU001E
380nm
85mW
Flat
2004
Engineering sample available
NCCU033E
365nm
100mW
Flat
2004
Mass production in Dec 2004
NSSU100
365nm
*1.0mW
SMD
2004
Engineering sample available
2mm×3mm×1.2mm(H)
SMD Ceramic Package
*Preliminary number. Subject to change without notice.
Contact information;
Public Relations, Nichia Corporation
Tel:+81-884-22-2311
Fax:+81-884-23-7752