Apr. 23, 2018
NICHIA was selected as one of the 2017 Top 100 Global Innovators
Clarivate Analytics, a global information services company (Headquarters: Philadelphia, USA; Japan office: Minato Ward, Tokyo) has selected Nichia Corporation (Headquarters: Anan City, Tokushima; President: Hiroyoshi Ogawa; hereafter referred to as "Nichia") as one of the top global innovators of 2017.
This recognition is awarded to industry-leading innovative creators actively developing the rights to inventions as well as those securing the rights to innovative products and services.
Nichia, with the goal of ensuring sustainable improvements to corporate value, is encouraged by this prestigious award in its quest for a strong manufacturing presence in Japan through promotion efforts related to intellectual property strategies (in conjunction with its business and research and development strategies) and continued contributions to society through the development of products with a small environmental footprint and a wide range of applications.
Clarivate Analytics' list of top 100 global innovators is based on the company's own patent database and analyzes intellectual property and patent trends based on four evaluation aspects: patent volume, patent-grant success rates, global reach, and invention influence. Being selected for this list is a recognition of Nichia as one of the world's most innovative companies.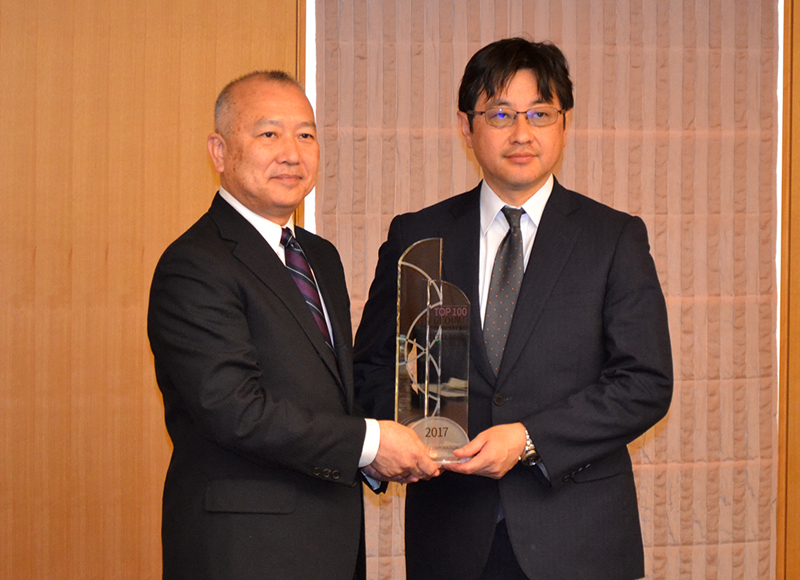 From left: Hirofumi Hino, Clarivate Analytics Japan representative, and Hiroyoshi Ogawa, Nichia president

Link to "2017 Top 100 Global Innovators": https://clarivate.jp/top100/

Contact information;
Public Relations, Nichia Corporation
Tel:+81-884-22-2311
Fax:+81-884-23-7717
Mail: pr_hq@nichia.co.jp