Mar. 2, 2022
Nichia will exhibit at "1st Japan Clear Air EXPO"
On March 15th and 16th Nichia will exhibit at the "1st Japan Clear Air EXPO" in Osaka, Japan. Nichia will display reference disinfection products equipped with Nichia's 280nm deep UV LED and visible light LED (405nm). Visitors can experience the germicidal effects of various LED light.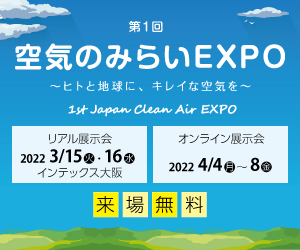 Fair Date & Hour: 2022 March 15, 16 10:00am – 5:00pm
Venue: INTEX OSAKA Hall 4 (Booth No. 1-32)
Products on display:
1. Space sterilization device "ACSTERIA" using Nichia's 280nm LED
2. Handheld sterilizer "UV Lightsaber" using Nichia's 280nm LED
3. Disinfection light using Nichia's 405nm LEDs
4. Product information about Nichia LEDs used
For registration and details: https://cleanair-expo.jp/
For more information about products, refer to Nichia's website.
UV LED (280nm)
Visible LED (405nm)

We look forward to seeing you at the fair.