May. 23, 2022
Webinar: Get a 360° view of good and sustainable lighting
Nichia will carry out a webinar on sustainable lighting in association with one of our valued partners, Lumitronix. This webinar will enable you to discover about "good and sustainable lighting", "quality of light" and will also address how fixture manufacturers and light designers develop products and solutions that reduce the impact to the environment.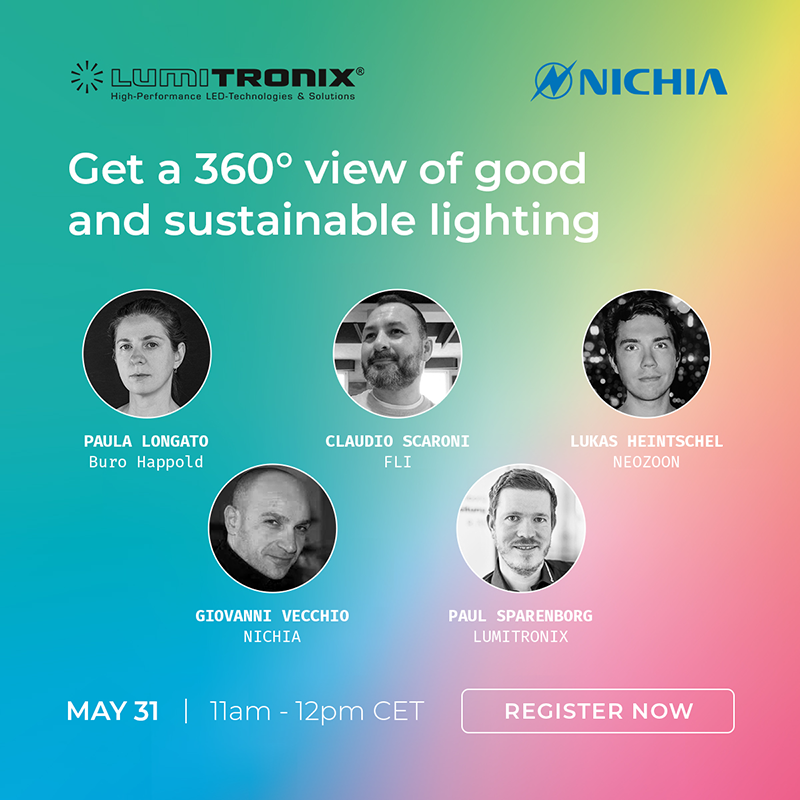 Webinar title: Get a 360° view of good and sustainable lighting
Date: Tuesday, May 31 at 11:00 am(CET)   Tuesday, May 31 at 6:00 pm(JST)
Duration: 60 minutes
Insights delivered on: Lighting design, luminaire selection, light source technology
Speakers and topics to be covered include:
• Paula Longato: "The What, Why and How of Good Lighting – What Is the Status Quo and What Else Needs to Be Done Technically and in the Market?"
• Claudio Scaroni: "How Do Fixture Manufacturers Create Lighting Solutions That Bring Wider Benefits to Occupants of a Lighting Space and Reduce Impact to the Environment"
• Lukas Heintschel: "Innovation, Quality, Design and Sustainability as Elements of an End-User Lighting Product"
• Giovanni Vecchio: "What Are the Latest and Future Lighting Technologies that Address the Needs of a Good and Sustainable Light"
• Paul Sparenborg: "Best Practice: Complete Solution with Good Lighting to Support HCL Concepts"
To join the webinar, visit here for registration.
We are looking forward to meeting you on the webinar.